Announcing The Wolves!
Coming to retail October 26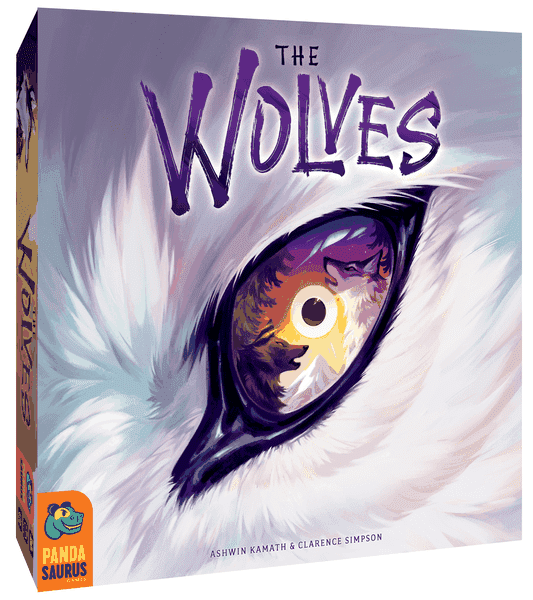 It has been an exciting week of announcements and we have yet another one for you - The Wolves is our newest game coming straight to retail this October! If you've been waiting for a medium-weight strategy game from Pandasaurus, wait no longer. It's here!
Preorders will open August 22nd and include a free promo. If you're going to Essen Spiel we're planning to have early copies to sell (barring any shipping crises).
The Lure of the Pack
The Wolves is a pack-building strategy game for 2-5 players. It's survival of the fittest as you compete to build the largest, most dominant pack by claiming territory, recruiting lone wolves, and hunting prey. But be careful not to expand too recklessly into terrain where your rivals thrive – they may lure members of your pack away!
Game info:
2-5 players
Ages 14+
75 min
MSRP $49.95 USD
Designers: Ashwin Kamath & Clarence Simpson
Artist: Pauliina Linjama
Mechanics: Area control, unique action selection, modular board
Release date: October 26, 2022
How does it play?
There are 5 main actions you can take during the game: move, build dens, build lairs, howl (turning a lone wolf into a member of your pack), and dominate an opponent wolf.
However, a clever action-selection mechanism drives your choices. Each action requires you to flip terrain tiles matching the terrain where you wish to take your action. These double-sided tiles mean the actions you take this round will set up which terrain types you can act on in the next round!
As you take actions to expand your pack's control of each region, you will also upgrade your pack's attributes, allowing you to take more aggressive actions as the game goes on. There are 3 scoring triggers in a game and each time you calculate the presence of wolf packs in certain regions of the map. The most dominant pack earns points!
Who is this game for?
If you like games with player interaction and beautiful art that still require you to think ahead and strategize, put The Wolves on your interest list!
This blog post was taken directly from our newsletter. To stay up to date with Pandasaurus news, subscribe here.